With the rapid expansion of gambling and the record-breaking introduction of mobile sports betting, there is no better time to bring this issue to the forefront. NYCPG and the seven local PGRC's are calling on everyone to shine the light on problem gambling, an issue that impacts millions of American adults. We all must collaborate to raise awareness of problem gambling, prevent any additional problems related to gambling, and get those in need to adequate, local support services.
The New York Council on Problem Gambling (NYCPG) and the Problem Gambling Resource Centers (PGRC) are working to Shine A Light on Problem Gambling.  Part of this effort is to encourage communities and landmarks to join our efforts in bringing awareness to our mission.   We are reaching out to our trusted partners and community champions to support our efforts.  The wider our reach, the more likely we are to reach those affected negatively by problem gambling.   
Please see the suggested ideas below on how you can participate and support the campaign.   
 Pledge to Shine a Light on Problem Gambling – Complete the contact form and select all that you are interested in: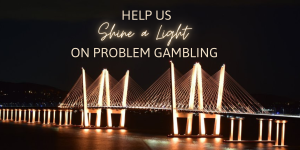 2023 Landmarks 
Albany International Airport Gateway Arch
The Lake Placid Olympic Jumping Complex  
The Lake Placid Olympic Center  
MTA- LIRR 
Penn Station- East End Gateway  
One World Trade Center  
Gov. Cuomo Bridge  
Kosicusko Bridge  
The H. Carl McCall SUNY Building  
State Education Building  
Alfred E Smith State Office Building  
Empire State Plaza  
State Fair Grounds – Main Gate and Expo Center  
Niagara Falls  
The Franklin D Roosevelt Bridge  
Grand Central Terminal  
Pershing Square Viaduct  
High level Bridge  
Peace Bridge  
Barclay Damon Building  
Alfred E Smith State Office  
SUNY Plaza  
Syracuse City Hall 
Fair Port Lift Bridge over Erie Canal